LOCATION:
Ojai Valley Inn & Spa
905 Country Club Road
Ojai, CA 93023
Map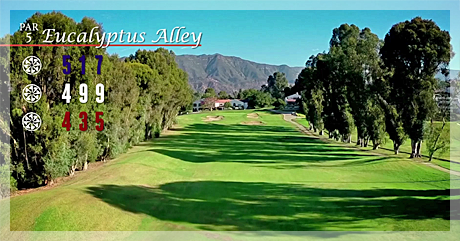 DATES:
July 17, 18 and 19, 2017

REGISTRATION PERIOD OPENS: March 24, 2017

REGISTRATION CLOSES: July 1, 2017 ← NOW EXTENDED TO JULY 5th!

You may register online here via the WGANC TPP online registration whether you are a WGANC member or not. If are new to TPP please use the "New User - Click here to Register" feature.

If you don't want to register online you may print the following form, fill it out and mail it with a check to the address on the form: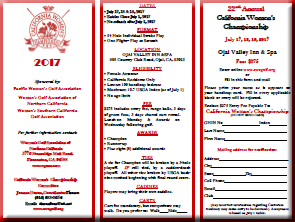 FORMAT:
54 Holes - Individual Stroke Play
One Flight - Play at Scratch
Non-metal spikes required

ELIGIBILITY:
Lowest 100 Handicap Indices
Maximum USGA Handicap Index of 10.7 (as of July 1, 2017)
Female Amateur
California Residents Only
No Age Limit

USGA WOMEN'S STATE TEAM
Representatives determined by participation and placement in the CWC
State Team points accumulated in 2016-2017
Team members selected in 2017 based on total points and eligibility will compete at the Club at Las Campanas, Santa Fe, NM September 26-28, 2017.
NCAA rules restrict college players from participating

AWARDS:
Champion, Runner-up
Plus Eight Additional Awards

ENTRY FEE:
$275
Includes entry fee, range balls, 3 days of green fees, 3 days of shared cart rental (fee mandatory but competitors may walk), Lunch on Monday and Awards on Wednesday following golf.